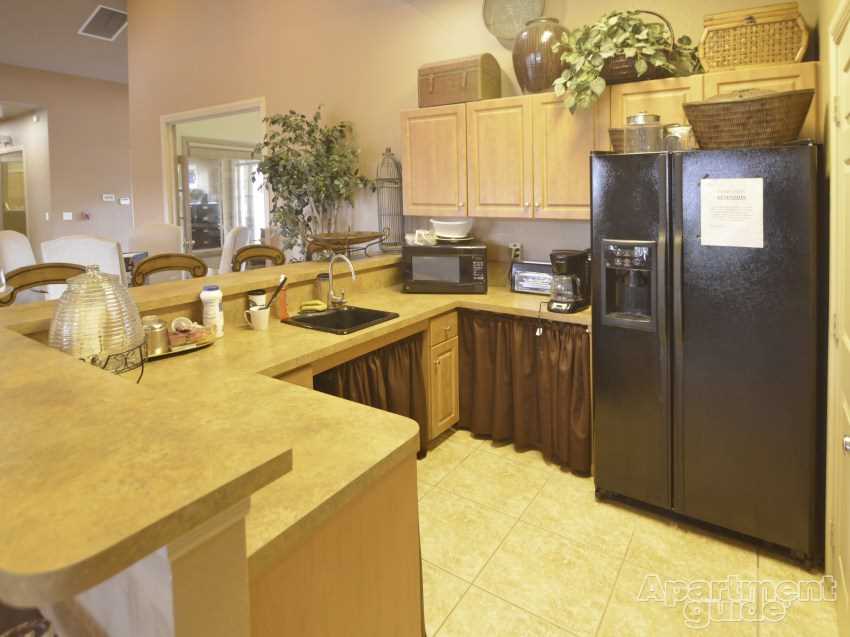 The wide-spaced Sundance Pointe Apartment designer kitchen of the 3-bedroom Sundance Pointe Apartment enhances creativity and enjoyment. As you work at the kitchen, a large wall mirror beside the kitchen backsplash allows you to see what's happening at the living room behind you. The extended fine wood countertops in attractive light yellow-brown finish allow you to slice food at the higher level countertops, and place food items at the wide lower countertops. 
At the Sundance Pointe Apartment designer kitchen you can place a microwave oven at the countertops near the kitchen sink, together with a blender. You simply have a lot of working table space to work on. If you love to be in the kitchen, you'll love to cook inside the Sundance Pointe Apartment designer kitchen. 
You've got a black refrigerator alongside a black icemaker. Behind the refrigerator are 5 walnut brown wood cabinets, and above the cabinets is an open storage space. The tiled floor finish allows easy cleaning after cooking at the Sundance Pointe Apartment designer kitchen.
From a certain vantage point of the living room you can also see through the attractive bathroom, while at the same time viewing the kitchen and dining areas in a panoramic mode. The view is simply superb, with the white walls and carpeted floor, and a wide closet beside the 4-chair dark brown wood dining table. 
All apartment features of Sundance Pointe Apartment designer kitchen are found in the three floor plan apartment designs or models of the community that include:
· One Bedroom plan model of 721 sq ft
· Two-Bedroom, 2-Bath 985 sq ft floor plan model
· Three-Bedroom, 2-Bath floor plan model with a total area of 1,114 sq ft
The Sundance Pointe Apartment designer kitchen is characterized by a well calculated spaciousness marked by high ceilings, a well-fit wall-to-floor dimensions and a balanced interior environment based on proper lighting matched with light wall colors, and an attractive wood floor finish.
Sundance Pointe Apartment is one of the many beautiful apartment communities in Florida. Located in the midst of the spectacular geographic configuration of Jacksonville, it is surrounded by three interstate highways, and the meandering surrounding bodies of water of St. John's River on the west and Dame's Point Turn on the east near the ten islands between St. John's River and Mill Cove. 
Come and visit the Sundance Pointe Apartment and see the difference. We can provide you a tour of the community at 5681 Edenfield Road Jacksonville, FL 32277. Our office hours are from Monday to Friday 9:00 AM to 6:00 PM. For directions you can call us at (904) 745-5757, or send us a message through our website
http://www.sundancepointeapts.com/
.